Group Training in a fun, supportive and energised team!
Our group class program is designed to boost your strength, fitness, mobility and get your body moving and feeling better every day. We pride ourselves on catering to all fitness levels and abilities from complete beginner to experienced gym goer – with a maximum of 12 participants per session we can work with each individual to ensure you are working at the right level and intensity for your body while getting all the technique assistance, and motivation you need from our coaches.
At Peachi PT having a strong and supportive community is our priority, and the group class team are the core of our community. We support each other, challenge each other and have fun every session. This dynamic environment helps keep you motivated and makes it easier to keep coming back and maintain regular exercise in your routine. Plus, no two classes are the same so you are guaranteed to get lots of variety in each session and you won't get bored with the same old routine.
Our Session Styles: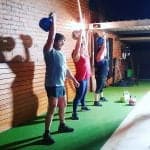 PUMP it!
Combining functional resistance training with cardio, these full body workouts are designed to get your heart pumping and your muscles working. PUMP it! is a staple if you're looking to boost your overall fitness and strength, burn calories and tone your body. These strength and conditioning sessions are available both in-studio and as part of our virtual timetable.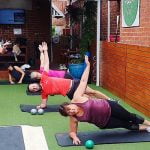 Pilates & Yoga
Focus on building core strength, mobility, flexibility and posture with our Pilates and Yoga experts. These classes are a great way to build body control, strength and coordination while balancing the mind and recovery. Pilates is offered both in-studio and virutally, while Yoga is part of our virtual timetable only so you can enjoy these classes from anywhere.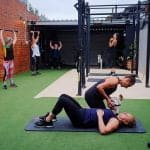 RESTORE
Recovery is vital for both the mind and body. These sessions focus on releasing tight, sore muscles and improving activation of muscles that need waking up to improve body posture and mobility. By tuning in to our recovery and working to restore our posture and mobility we're able to get more benefit every time we exercise. This session is available both in-studio and virtually.
How It Works
We offer over 20 sessions per week across our in-studio and virtual timetables, and you have the flexibility to choose which sessions you attend every week.
All sessions run for 55 minutes.
We have flexible membership options to suit your lifestyle – you can exclusively participate in group classes, or combine them with our Shared PT sessions to create your ultimate membership.
Want to try us out?
14 DAY KICKSTART 
All included for only $97
A Movement Assessment & One-on-One session

A low intensity session to check in on your mobility, your fitness level, and chat about your goals.
4 x Shared PT sessions

Start your own completely individualised program.
Unlimited Group Class access

Try out as many classes as you like over the 14 days.
* This Offer is only available to first-time new members.