Shared PT – Personal Training in a team environment.
Shared PT is our flagship training style – it's the perfect hybrid, bridging the gap between traditional one-on-one personal training and group training.
Shared PT is the most effective way to accelerate your results, improve your body movement and achieve your goals, no matter what they are!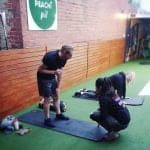 One-on-One Programming
Completely individualised programming tailored to YOU – your body, your goals, and the way you like to exercise – just as you would in one-on-one training.
Supportive Team Environment
Be coached through your program alongside 2 – 3 other members as they work on their own program in a supportive, social and energised team environment.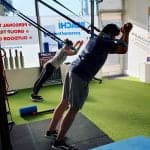 Ultimate Coaching, Flexibility & Value
Receive the highest quality coaching and the flexibility to book training times around your lifestyle – all the benefits of one-on-one training at a fraction of the cost.
How It Works
We offer 20 sessions per week across our timetable, and you have the flexibility to choose which sessions you attend every week.
All sessions run for 55 minutes, and there is a maximum of 4 participants in each session.
We have flexible membership options to suit your lifestyle – you can exclusively participate in Shared PT, or combine your PT with Group Training to create your perfect membership.
Want to try us out?
14 DAY KICKSTART 
All included for only $97
A Movement Assessment & One-on-One session

A low intensity session to check in on your mobility, your fitness level, and chat about your goals.
4 x Shared PT sessions

Start your own completely individualised program.
Unlimited Group Class access

Try out as many classes as you like over the 14 days.
* This Offer is only available to first-time new members.