Restorative PT – Move with freedom.
Niggling pain or restriction holding you back? 

Want to learn what your body needs to move pain free so you can get the most out of every session and have freedom of movement in every day life?!
Restorative PT (RPT) is our series focused solely on giving you back that freedom – it's like Shared PT, but it's all about tuning into your restrictions, completing a program designed to eliminate those pains and most importantly empowering you with the knowledge and skill you need to stay pain-free for GOOD!
One of these sound like something your body needs?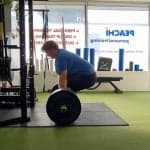 Back Bandits
Eliminate back pain and improve the mobility and control you have over your spine so you can move pain-free and feel confident and strong in deadlifts, swings and more!
Shoulder Samurais
Free yourself from shoulder pain and restriction (or if you suffer regular tension headaches this is the group for you) so you can shoulder press and push up with ease!
Knee Ninjas
Wipe out knee pain and niggles and free restrictions in your hips so you can step up, step down,  jump, squat, run and lunge with confidence and strength!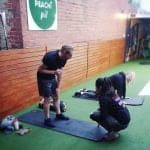 Ankle Assassains
Improve your ankle mobility, balance and eliminate foot pain so you can so you can skip, hop, jump and run. Not to mention what improved ankle function does for your squats too!
How it works
– An RPT series is 6 weeks long. You attend the same set RPT session each week for 6 weeks (these sessions are run separately to Shared PT, ie. they are not interchanegeable).
– In week 1 you begin with movement and pain screenings, then we create a program tailored specifically to your body and you spend the next 4 weeks working the program both in RPT sessions and working on elements inbetween sessions too. In week 6 we re-screen your movement, celebrate your progress and set you a plan for you to continue your work and progress into the future.
– As a current Peachi member you have the option to pay $197 upfront, or break payments into 6 weekly instalments of $36.
– As a new or returning Peachi member you have the option to pay $247 upfront, or break payments into 6 weekly instalments of $46.
ARE YOU IN?
We have very limited places available, so get in quick to reserve your place by completing your registration here:
SO! Are you struggling with niggling, annoying pains they you want to address and (hopefully) ELIMINATE?
Do you want to know HOW to take control when those niggles kick in and have the skills to reduce the pain and get back to feeling pain free?
If the answer is YES and YES, then click below to register your place!
Want to try us out?
14 DAY KICKSTART 
All included for only $97
A Movement Assessment & One-on-One session

A low intensity session to check in on your mobility, your fitness level, and chat about your goals.
4 x Shared PT sessions

Start your own completely individualised program.
Unlimited Group Class access

Try out as many classes as you like over the 14 days.
* This Offer is only available to first-time new members.